Update to Kagi Search pricing
It has been a while since our last update, and we have been busy with three main large-scale initiatives: a new pricing model that ensures Kagi's sustainability, new plans including Family plans, and enhancing search experience with generative AI tools.
We remain committed to being 100% user-supported and are pleased to unveil our revised pricing structure. This will make Kagi more accessible to a broader range of users while guaranteeing our long-term financial stability.
The new pricing plans will be effective March 15, 2023 (Update: March 16), and this blog post will go into detail of the roll-out.
Table of Contents
Summary of changes
The current Premium plan with unmetered searches will be called "Legacy Professional" and will continue until it is renewed. After that, if you do nothing, it will be automatically replaced by "Early Adopter Professional" which includes 1,000 searches, with a charge of 1.5 cents per search beyond that limit.
For example, after the switch to Legacy Professional:
If existing sub averages 30 searches per day (900/month), they'll pay $10 (as "Early Adopter Professional" as it includes 1,000 searches before pay per search).
If existing sub searches 1,100 times, they'll pay $10 + 100 * $0.015 = $11.50 (as "Early Adopter Professional" as it includes 1,000 searches before pay per search).
The new Trial plan will be one time 100 searches.
The new Standard plan pricing will be $5/month, with 200 free searches included. This should be enough for 99% of regular Internet users and allow them to start using Kagi. (note that the most of our current users are definitely more in the 1% non-regular Internet users category😊)
The new Professional plan will be $10/month and include 700 searches.
New plans also have pay-per-use searches on demand, which are priced at 1.5 cents per search.
For example:
If a new user averages 5 searches per day (150/month), they'll pay $5.00.
If a new users averages 10 searches per day (300/month), they'll pay $5 + 100 * $0.015 = $6.50.
If a new users averages 30 searches per day (900/month), they'll pay $10 + 200 * $0.015 = $13.00.
We are also introducing the Ultimate plan with unmetered searches for $25/month.
You can see your current search usage in your dashboard.
More information for existing subscribers is available under existing subscribers section.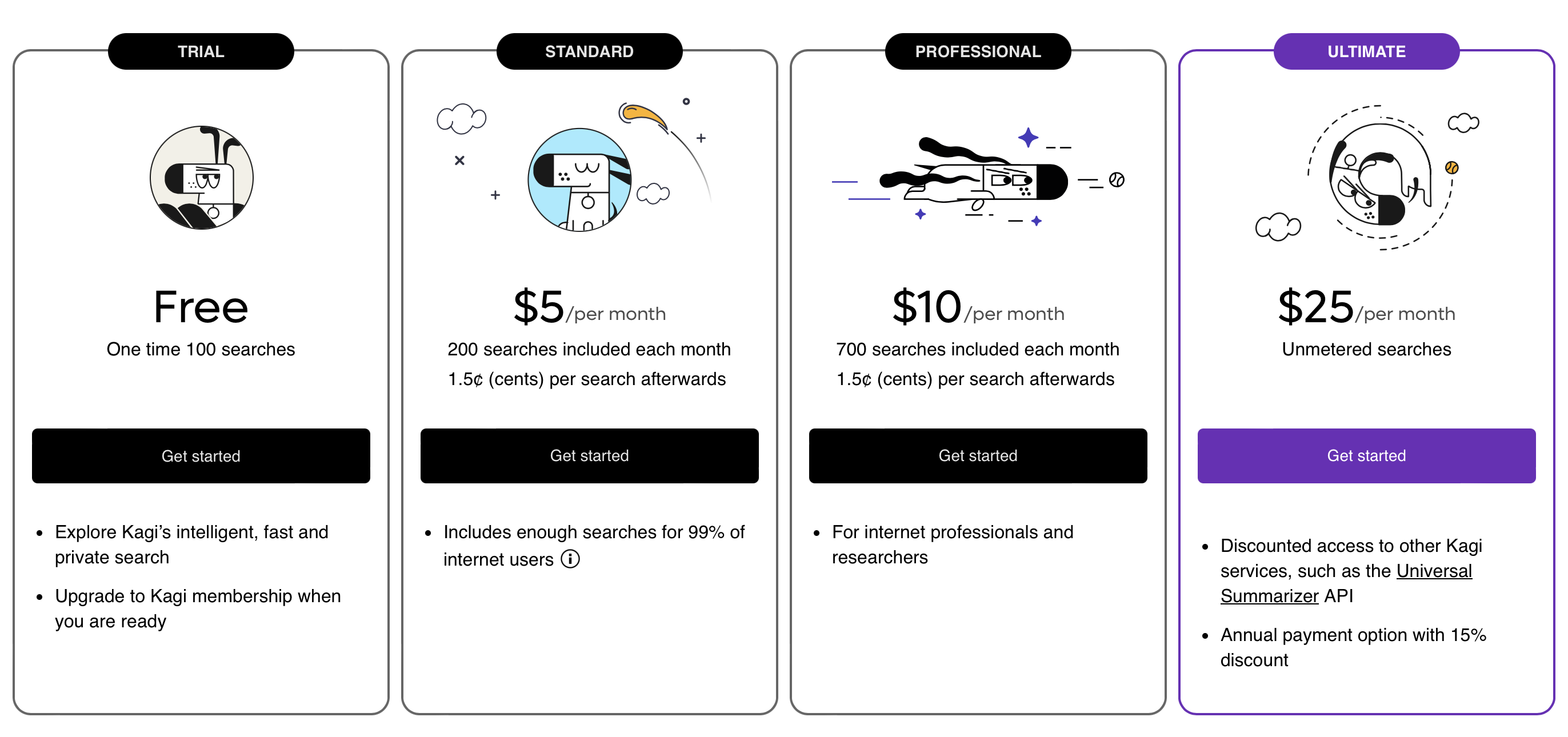 New plans, click for larger image
Why this change
Last September, we had a discussion about the pricing model for Kagi's search service. While we were thrilled to have attracted a user base that is both tech-savvy and heavy users of search, the $10 per month unmetered search plan was not financially sustainable for us. We wanted to fix this by finding a pricing model to offer a fair balance for both light and heavy users.
In addition, we are excited to see how quickly generative AI has become popular in recent months. We have demonstrated the Universal Summarizer, a state-of-the-art summarizer of any content on the web, which aligns with our vision for the future of AI in search. However, incorporating generative AI into search can be expensive, so we had to consider this in our pricing model.
After three months of valuable discussions with our users on Kagi discord, we have developed a tiered pricing system that is easy to understand and ensures Kagi's financial sustainability for the future. We want to express our gratitude to everyone who contributed to these discussions.
Details
Free plan: We are changing this from 50 monthly searches to one time 100 free searches. The main feedback we got is that people needed more time to try Kagi and set it up on all their devices. This change will address that.
Standard plan ($5/mo, 200 free searches per month included): We are excited to introduce this plan as it will allow almost everyone to start using a paid search engine and start owning their searches. Our research has shown that most internet users search around 100 times a month.
Professional plan ($10/mo, 700 free searches per month included): This plan is for Internet professionals and developers.
Pay per use: Both Standard and Professional plans include pay per use feature where searches after the included free searches are priced at 1.5 cents per search. Users will have a feature to control pay-per-use costs via customizable soft and hard limits. Reaching the soft limit triggers a notification; the hard limit prevents further searches.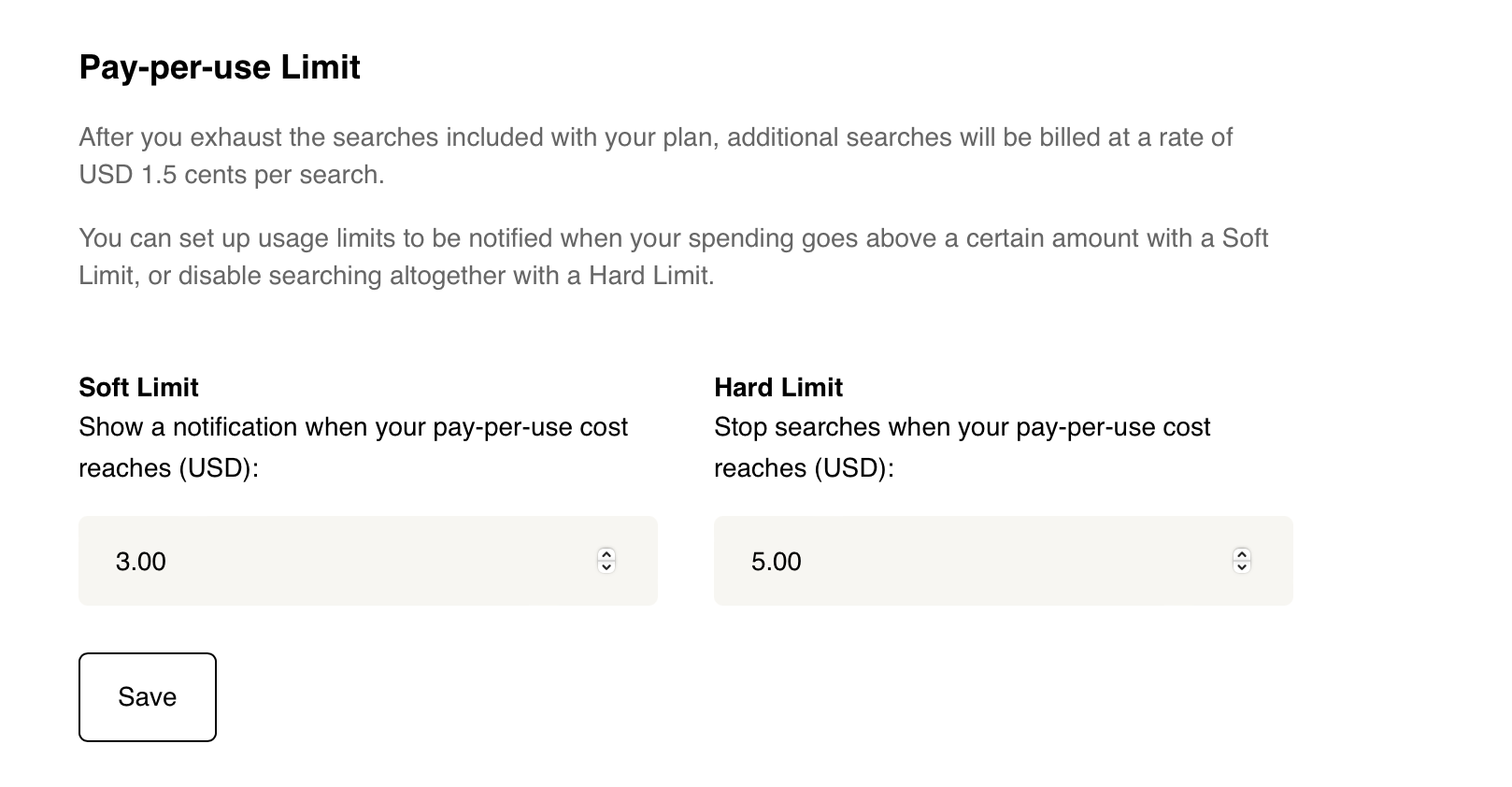 Control pay per use cost
Ultimate plan (unmetered searches): The new unmetered plan is now priced at $25/mo. It allows the most flexibility for the user.
Early Adopter Professional plan: Special version of the Professional plan with 1,000 included searches, available to early-adopters. Read more in the following section. As an example, if you're an existing user with an average of 1500 queries/month, you'll pay $10 + 500 * $0.015 = $17.50.
Legacy Professional plan: The current Kagi plan ($10/mo, unmetered) will be deprecated, but the existing subscription will be honored until renewal. Read more in the following section.
Usage for generative AI is described in more detail in the AI section.
Note Kagi has a feature to check your current search usage to get a better sense of how will the new plans affect you.
Existing subscribers
There are several perks for existing subscribers available, so make sure you read through them carefully.
Every existing subscriber will have their current subscription honored until expiration. That means if you are a subscriber at the time of the new plan rollout, you will still get unmetered searches as a part of your original Premium plan until your existing subscription expires or is set to renew.
This also means that if you are on an annual subscription plan before the pricing change on March 15, we will honor your current subscription plan all the way to its renewal.
The name for this plan will be 'Legacy Professional' and will be indicated as such in your billing dashboard.
One thing to note is that Legacy Professional plans will have limited access to the AI tools. At this time, we will limit usage to 50 interactions/month to keep the cost under control and adjust this as needed.
Every account with a subscription prior to or at the time of pricing change on Mar 15 will get the "Early adopter". This will make the special "Early Adopter Professional" plan available to them instead of the regular Professional plan, with the main difference being 1,000 free included searches monthly, instead of 700, for the same $10/mo. And when the Legacy Professional plan renews, it will be automatically replaced with the "Early Adopter Professional" plan.
Family plan
We are excited to announce that the new Family plans will launch on March 29. Since the inception, Kagi has been driven by the idea of humanizing the web, especially for families and kids. We strive to provide a search engine that prioritizes the well-being of your loved ones, particularly the most vulnerable ones like children, by offering an ad-free and safe browsing experience. Our commitment to this cause was the inspiration behind the creation of Kagi.
Update (March 10): We updated the family plans based on additional community feedback.
Duo: At $14/mo, 1,000 searches included, Duo will make Kagi ideal for couples.
Family: At $20/mo, 1,500 searches included, Family allows an entire family, including kids, to enjoy Kagi's search quality and safety.
We will write extensively about the Family plan and its unique features as we launch it on March 29.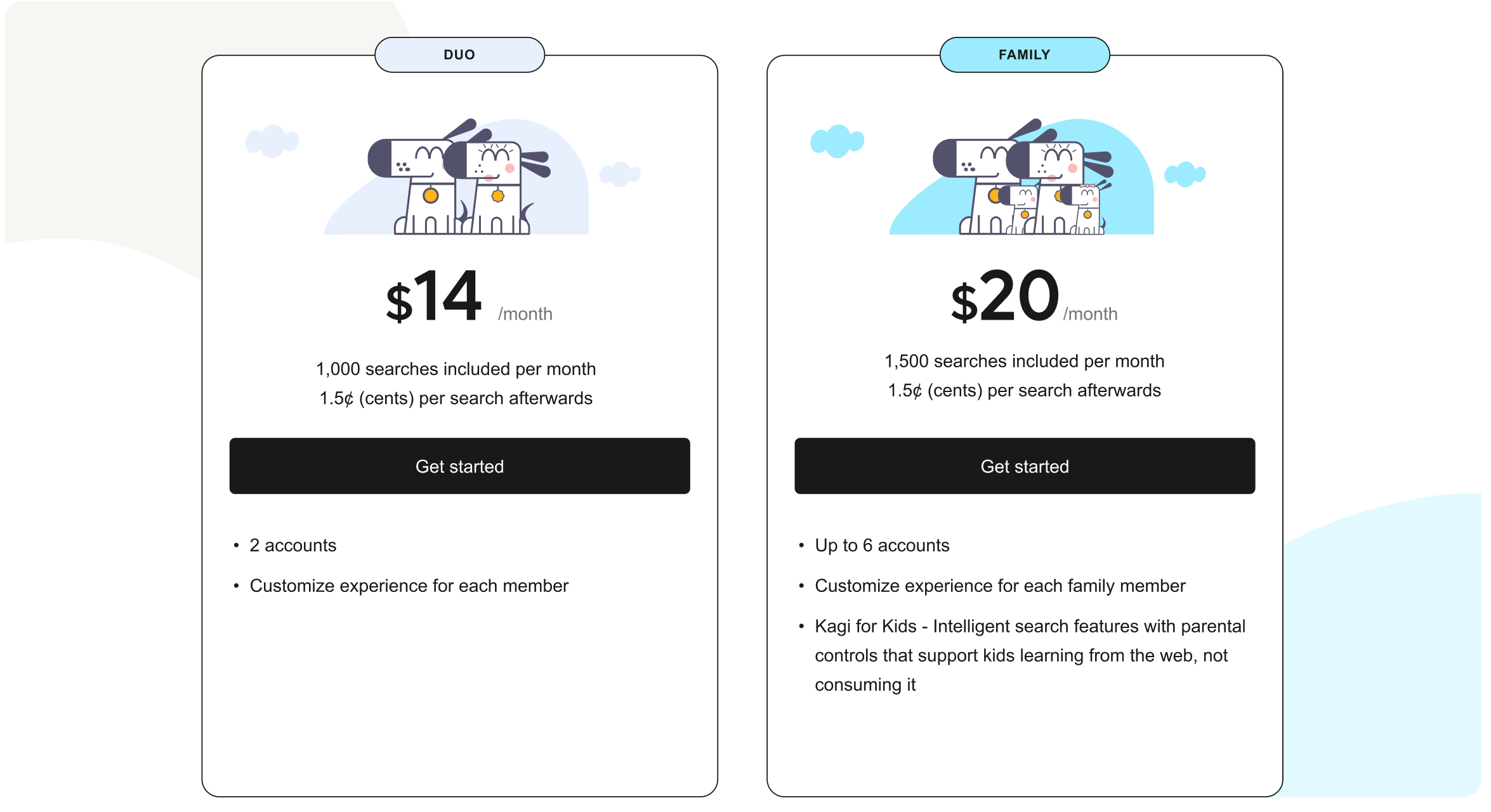 Family plans
New payment methods
We will be adding new payment methods, including Bancontact, iDEAL, Sofort as well as SEPA and direct bank debits, which should make Kagi more accessible to customers without credit cards.
Generative AI integration
Kagi has long heritage in AI, and actually started as kagi.ai in 2018. We published products, research and even a sci-fi story about AI.
Recently we've shown technology demonstrations for AI in search, AI in browser, Universal Summarizer, asking questions about documents in search results and many more.
Generative AI opens a new paradigm of search and a vast search space of queries that never previously existed.
We have taken special care to ensure a thoughtful user experience guided by this philosophy of AI integration:
AI should be used in closed, defined, context relevant to search (not to be a therapist for example)
AI should be used to enhance search experience, not to create it (similar to how we use JavaScript, meaning Kagi works perfectly fine without it)
AI should be used to the extent that does not diminish our humanity (AI is a tool, not a replacement for brain)
We will launch three new features in Kagi on March 15, driven by generative AI.
Summarize results - On-demand summarization of your search results
Summarize document - On-demand summarize any page in your search results, regardless of document type or length. The Universal Summarizer will be used to power this feature. (App is currently paused, it will return with our new plan launch, see roadmap)
Ask questions about the document - On-demand interactive chat mode where you can explore any document in your search results
Generative AI tools usage in trial, Standard, Professional and Early Adopter Professional plans will be converted into equivalent search usage according to this table:
Summarize results: 0-1 searches
Summarize document: 0-20 searches (depending on length of the document, this can process 100 page research papers or even books)
Ask questions about document: 0-20 searches (depending on the length of the document and the length of interaction)
The Legacy Professional will have a limit of 50 interactions/month. The Ultimate plan will have a 300 interactions soft limit in a month covered by Fair use policy. We will monitor actual usage and adjust these limits up or down accordingly.
Orion bundle
As part of our ongoing efforts to enhance the Kagi experience, we are thrilled to introduce the Orion browser bundle. When you subscribe to Kagi, you will have the option to support the development of Orion, a zero-telemetry browser that pairs perfectly with Kagi. We are proud to say that, like Kagi, Orion is entirely user-funded. Initially, Orion will be available on macOS/iOS/iPadOS, with plans to expand to other platforms in the future.
You will also be able to manage your Orion subscription directly from your Kagi billing dashboard.
Community event
We have our first live community event on March 14 (Pi day!) at 1 pm EST in Kagi discord, event direct link.
This session will last approximately one hour and feature Vlad (CEO / Founder) and Zac (Tech Lead) to discuss pricing, AI, search and everything else. We are eager to see you all there.
Roadmap
To recap, here is the expected timeline of events:
March 14 - Community event
March 15 - New pricing plans & generative AI tools launch
March 22 - Universal Summarizer will relaunch as a standalone web app and an API (sign up to get notified when it does here)
March 29 - Family plan launch
Frequently Asked Questions
Q. Didn't you say in September that current subscibers will be grandfathered in?
A. Yes we did say that in September. We are sorry that we have to walk back on that promise and we should have done a better job at communicating the pricing change debate that has been going on for over three months with our community.
Simple reason is that a lot of things changed since. We also said in that blog post that Kagi will cost $19/mo for all users and that is obviously not the case either. We were just wrong. A lot of things changed in the meantime that we could not anticipate and predict, namely:
We are already losing money on most accounts. Providing a service where you lose money per customer is not advisable for any bootstrapped business, let alone in the current economic climate which is predicted to get worse.

The model was not fair, the few people who searched less had to subsidize both people who search a lot and the free trial accounts. The new model ensures everyone pays their fair share

Cost per search actually went up significantly since September


The decisions made (the price change and cancellation of grandfathering) is exactly the necessary step to keep us in the business of search, aligning incentives between us and users, and keeping the best interest of our users in mind.
We did the best we can, and we will still going to grandfather in everyone for up to a year on the old plan, and then on a special plan after that indefinitely (which still loses us money, just less). Discussion about this was long and hard and we made the best possible decision given our abilities and the circumstances.
Q. What's weird to me is why resources are used to AI/Orion features that are costly to develop and use instead of focusing on getting break-even and/or product-market-fit?
A. We look at these as customer acquisition channels. Kagi spends no money on marketing and it is incredibly expensive to acquire a search engine customer. We'd rather spend money on creating long lasting products that can provide that function indefinitely ("planting the seeds").
For example, Orion has been a major customer acquisition channel for Kagi and around 20% of our customers have found Kagi through Orion.
We expect that AI will have the same affect (for example, we gained hundreds of customers after our Universal Summarizer demo)
Q. Where does the search usage data (99% of users search less than 200 times a month) come from?
A. The average person searches Google three or four times per day. (90-120 times per month) [1] According to DuckDuckGo's data, the monthly average is about 30 searches per person or one per day. [2] We hope that the new Standard plan will help attract some of these users.
Average Kagi user is searching 700 times per month and this is what the Professional plan is made for.
[1] Google Search Statistics [2] DuckDuckGo - How Many People Use DuckDuckGo?
Q: Why is Kagi offering a Standard plan for average search users who don't want to pay for search?
A: While it's true that many average search users may not be willing to pay for a search engine (yet!), we want to make our platform accessible to as many people as possible. The Standard plan is our way of providing an option for those users who may not require the advanced features of our professional plans. In addition, we have received requests from casual users and students for a starter-level plan. However, it's important to note that our core focus remains on professionals, and they will continue to be the driving force behind our product roadmap.
Q. Do unused searches roll over to the next month?
A. No. Something has to pay for free trials and our salaries and it is a delicate balance. This may change in the future but it is easier to say no and not have to walk back on that.
Q. What is your cost per search?
A. Currently it is 1.25 cents per search. But search indexes are about to become several times more expensive and we now have the AI integration cost. We will try to keep the cost at 1.5 cents per search or below by rethinking our partnering strategy and investing more into our infrastructure.
Q. Do bangs count as searches?
A. No, bangs are free.
Q. Does immediately reloading search results, or going back from a result to rsults page count as search?
A. No, this is not counted as search.
Q. Can I subscribe again to "Early Adopter Professional" if my subscription as an early adopter cancels/expires?
A. Yes, if you were a subscriber prior to March 15, you will get the "Early Adopter" flag, and this will replace the "Professional" plan for you with "Early Adopter Professional." It is our way of saying thank you for your support in the early days.
Q. I upgrade to Ultimate - can I later "downgrade" to "Early Adopter Professional" or will that wipe the Early Adopter status?
A. Yes, you can.
Q. If I subscribe to the annual plan before March 15, will it be unmetered for the year?
A. Yes.
Q. How do I get an annual plan?
A.
if you are already on a montly plan, go to Settings -> Billing -> Manage -> Cancel Plan (don't worry, the money will be pro-rated)

Subscribe using the annual option in the checkout
Q. Can I see my current search usage?
A. Yes, it is available on your Billing screen. Visit this link.
Q. Does family plan includes 1,000 searches per user or total?
A. It is a shared pool across all members.
Q. Do family plan users really have to be 'under the same roof'? (question from discord)
A. No, it was just a figure of speech. We will remove that in final design.
Q. Terrible you got rid of the free 50 searches reset monthly to only 100 total! (paraphrasing email from user)
A. Our goal was never to offer search for free. We are a paid search engine, and every free trial users' searches have to be paid/subsidized by an actual paying user.
The change optimizes for being able to better address the needs of the actual trial users testing Kagi initially, before they make the purchasing decision.
Q. Which plan is right for me? (for math nerds)
A: If you search less than 533 times per month, the Standard plan will be cheapest. If you search more than 533, but less than 1700 times (2000 for early adopters) per month, the Professional plan is the cheapest. If you search more than 1700 times (2000 for early adopters) per month, the Ultimate plan is for you.
Q. Are you still bootstrapped?
A. Yes. We plan to do our "Familiy, Friends and Users" investment round sometime in April-May time frame. You can express interest by signing up here.