Kagi status update: First three months
Kagi search and Orion browser officially entered public beta exactly three months ago. We thought we'd give a full status update.
If you are new to Kagi - Kagi search is an attempt to make the best web search engine that money can buy. Kagi is also the maker of the Orion browser, fast and zero-telemetry WebKit based browser, a perfect companion for Kagi (Mac/iOS only for now).
Table of Contents
Kagi search
Kagi search is currently serving ~2,600 paid customers. We have seen steady growth since the launch 3 months ago. Note, this is with zero marketing and fully relying on word of mouth. We prefer to keep things this way for now, as we are still developing the product towards our vision of a user-centric web search experience.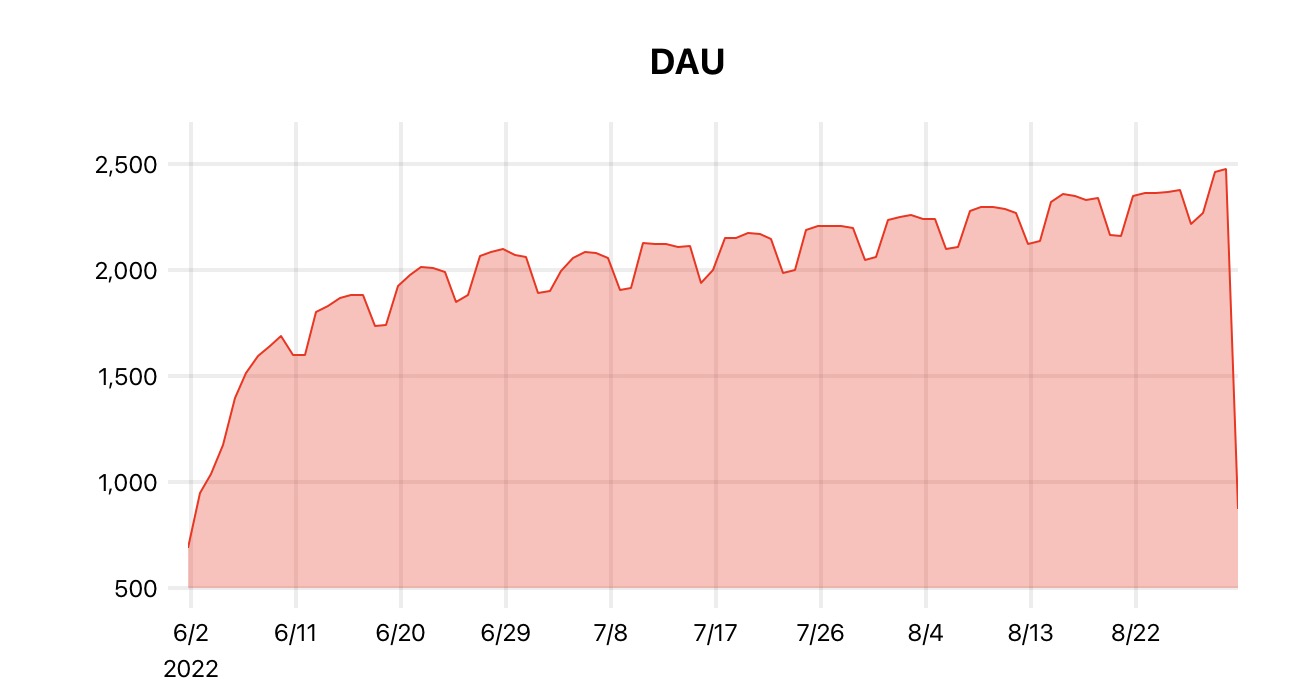 Kagi daily active paid users since public beta launch, dips being weekends
We are currently serving around 70,000 queries a day or around ~27 queries/day/user (this includes free users which are about 10% of total users). There is a lot of variance in use though, with some users regularly searching >100 times a day. Every time we see a search count go >400 times in day we are happy to be an important part of someone's search experience.
What is really interesting is that we are seeing a steady stream of around 30-50 new account signups per day (again, purely through word of mouth). Our conversion rate to paid account is about 20%, resulting in about 6-10 paid signups per day.
77% of users elect to pay for Kagi within the first week of use, with more than a third on the spot, on the very first day.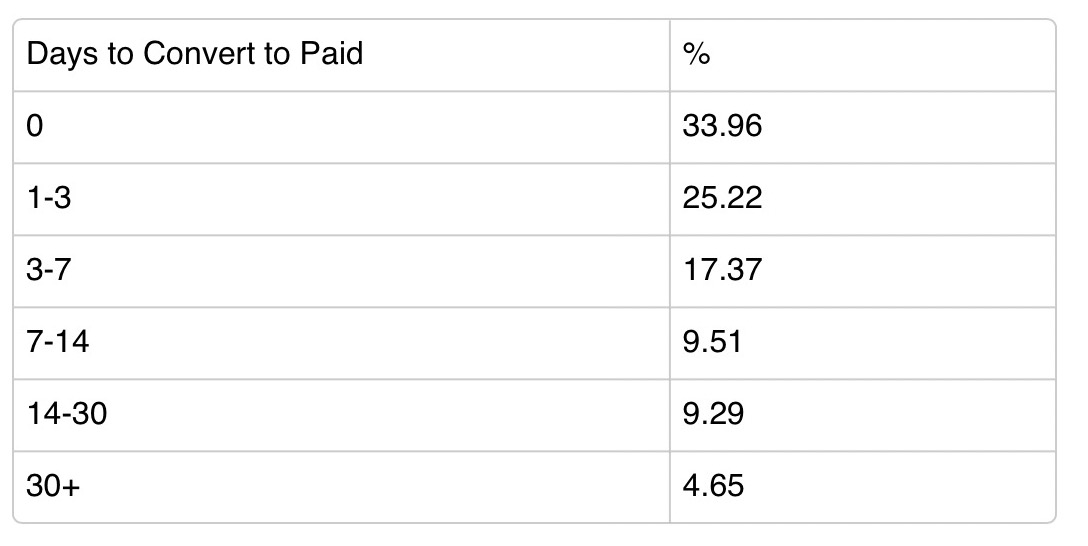 Kagi search days to convert from free to paid
Product stickiness is also very high, with churn being lower than 3%.
Zooming into Kagi's feedback site, kagifeedback.org, we see a steady stream of activity (most requesting new features) and the community reaching almost 700 registered users, roughly 1 in 4 paid users are engaged and providing feedback/reporting bugs.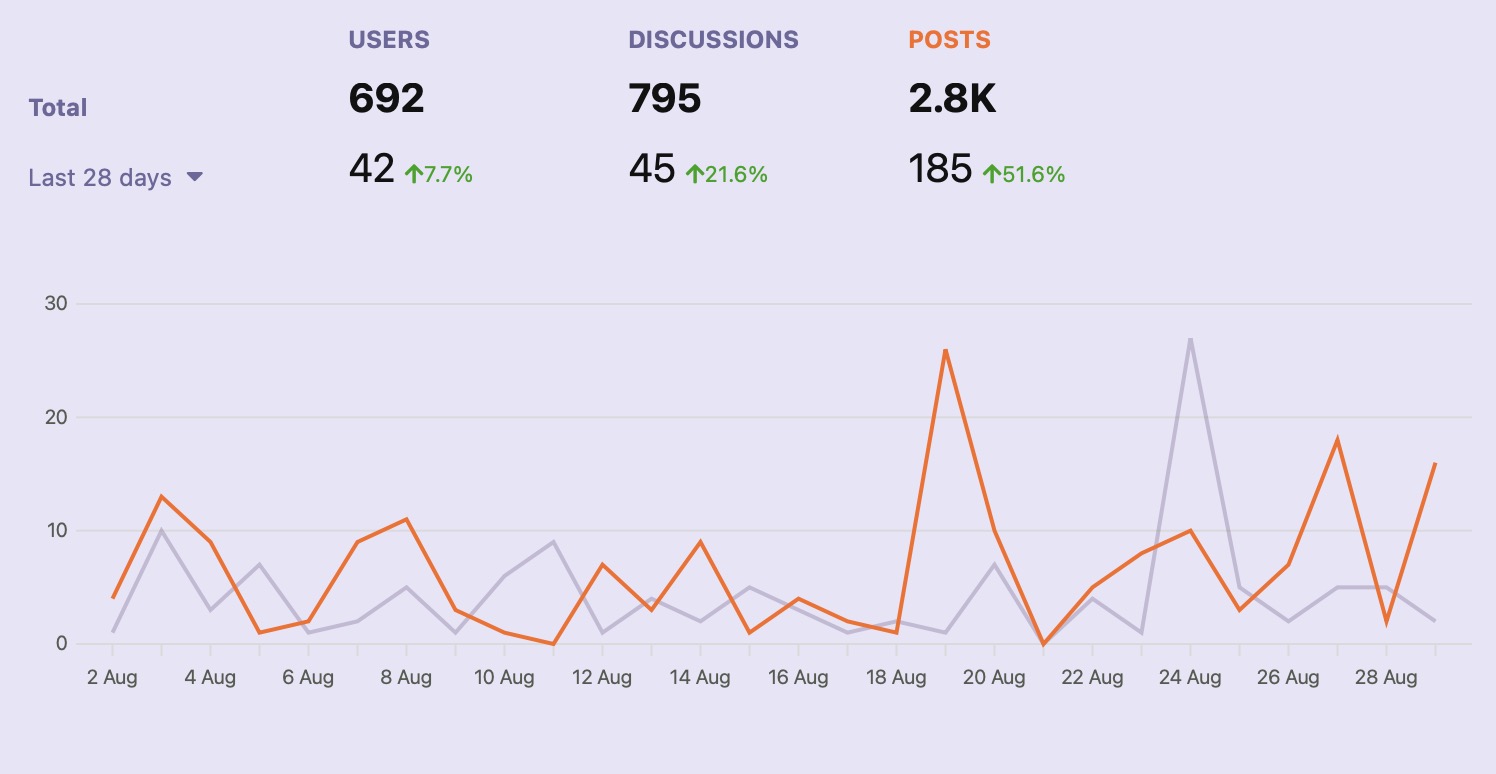 Kagifeedback.org activity
There are some incredible discussions happening here, like for example this one about should Kagi include a suicide prevention widget.
Orion browser
Orion browser currently has around 1,800 active users. The way we measure this is through auto-update "pings" to our updates server.
This measures only users who have enabled auto-updates (Orion is zero-telemetry by default so auto-updates are disabled by default). It may not be an accurate portrayal but is the best we got.
We are very pleased that ~100 users (5.5%) have decided to become patrons of Orion, supporting Orion with ~$50/year, with 5 users (0.003%) supporting it with $250/year. The age of being able to pay for your web browser, knowing it has your best interest at heart, is back!
Zooming into Orion's feedback site, orionfeedback.org, we see tremendous activity with 1,600 users, 2,500 open issues and 10,000+ comments. We are happy to see the activity trend decreasing a bit as it mostly consisted of new bug reports, so hopefully we are starting to exhaust those.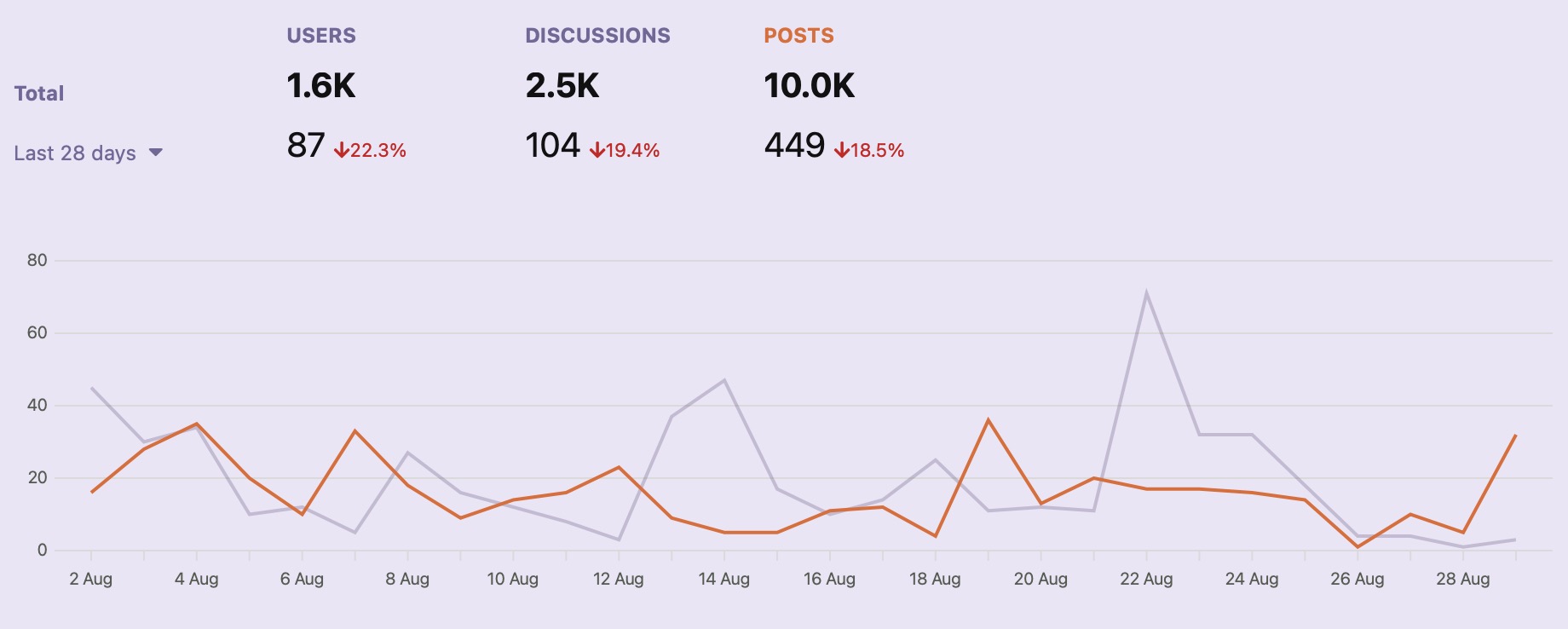 Orionfeedback.org activity
Our goal with Orion is to be the best browser for Mac and Apple devices (at first) and we hope to achieve 10%+ market share with Macs in the future. The early feedback is phenomenal and encouraging. We are continuing our investment in Orion, recently adding another team member.
Marketing
We are pleased to see that the word about Kagi is propagating through Hacker News, Reddit and Twitter with word of mouth from existing users. Thank you for doing that 🙏
We currently do not have any outbound marketing activity. There is no Kagi Twitter account (or any 'social media' account). We sent exactly 0 marketing emails to our users since the launch of the public beta 3 months ago. There is no concept of a mailing list. We believe that being bombarded with marketing emails the moment you sign up for a service is just not decent.
We are currently communicating updates through the Kagi dashboard with a "NEW" icon in the corner. Our users are frequent visitors to the site as search is an integral part of their web activity. These updates are also tracked through the Kagi changelog page. We also communicate updates through our community Discords. Also anyone submitting bug reports or feature requests will get an email when these are completed and released. Let us know if this is enough or doing more would make sense.
We plan to do billboards and radio sponsorship in the future. We produced a TV quality commercial for Orion. We are still considering how to best distribute this.
We are working on making Kagi and Orion swag available through an online store (t-shirts, hoodies, mugs, stickers …). Go Doggo!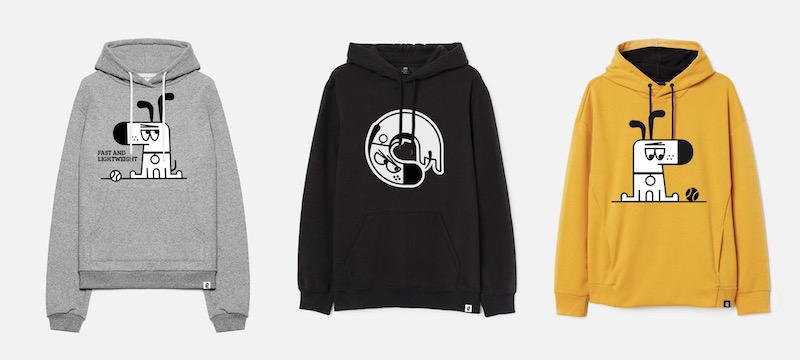 Our approach has always been leading with the product first and being true to our mission and vision. If you have marketing ideas for Kagi, let us know.
Product updates
Our status page is up at status.kagi.com.
We successfully moved search results to be screen reader enabled (Thanks to the feedback from several users. Accessibility will be an integral part of our product experience)
We released Kagi extensions for all major browsers enabling searching from private windows without logging in. The extensions are optional. You can find them on our Assets page.
Our open source software repositories are growing. Currently they contain all Kagi web extensions and interesting Orion browser assets, with more to come.
We shipped nearly ~400 features and bug fixes requested by our users, through kagifeedback.org.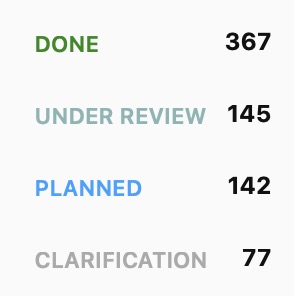 With Orion, we shipped more than 800 features/bug fixes coming from users through orionfeedback.org.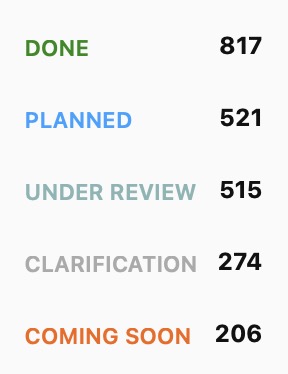 Coming to think about this, considering the total number of Orion users (less than 2,000) it looks like every user contributed more than 1 issue on average… Thank you, you are amazing 🙏.
This is why we regard our process as user-driven development, where users have contributed more than 50% of the product roadmap (the other 50% being our product vision).
Security and privacy
We are pleased to report that Kagi search has recently completed an external security audit. This was an extensive web security audit running over several months (May-August). The audit helped us uncover potential vulnerabilities that were fixed and Kagi earned the maximum "Highly secure" score in conclusion.
Kagi search remains committed to respecting user privacy. We get a lot of praise for the level of detail in our privacy policy, and if you are interested we invite you to check it out. Our business model (paying for search) ensures that our incentives are aligned with the incentives of our users.
Orion browser remains truly a rare breed in the browser market, being a fully zero-telemetry browser (meaning no data ever leaves the browser and is "phoned home", by default) and having full ad/tracking blocking (including 1st party ads/trackers) built in and enabled, by default.
We unfortunately live in a world where browsers track everything (someone even made a tool that makes the computer beep every time it sends data to Google).
Being zero-telemetry means Orion is truly privacy-respecting by design. This is not just something we claim but is easily verifiable by security/privacy researchers or even just ordinary users (all it requires is a network proxy to verify that Orion indeed does not "phone home" by default). And blocking all ads/trackers by default, including first-party ones, ensures user's privacy on the web.
On top of that, Orion is the only web browser in the world currently that you can pay for and will always have only your best interest at heart.
Anonymity
We often get asked "how can you respect privacy when I need to login?" (Kagi requires an account because users have to pay to use it),
We believe that Kagi has the most user-friendly privacy policy of any search engine out there. However, privacy and anonymity are not the same things.
Several users interested in anonymity have requested anonymous payment methods (usually involving crypto payments).
Implementing crypto payments remains a challenge as accounting/financial infrastructure requirements for this are more than Kagi can handle at this stage. There is no simple plug-and-play API for crypto like there is one for credit cards (we use Stripe). The complexity of different cryptocurrencies and the missing simple structures for recurring payments make it hard for us to tackle this at this time. It took some other companies (Mullvad comes to mind) more than a decade to come up with a solution for this problem.
However we believe Kagi is already anonymous in practice. Kagi requires no personal information to create an account (you can use any email to register including anonymous solutions like SimpleLogin). To hide their payment information, one can use a virtual debit card (such as PrivacyHQ). And even if you do not jump through these hoops, Kagi has you covered. We do not log searches or associate them with an account, by design - we have no use for it and it would just be a liability for us. There is no simple switch one can flip to enable this in case of a court order.
Beta status
We will likely remain in beta status for at least the next 6-12 months. There is still a lot to be done. You can get a sense of the near-term features planned to be released by looking at the Kagi product roadmap and Orion product roadmap.
We also need to up our game regarding product documentation (beside extensive FAQs for Kagi and Orion, there is not much else). "Conquering" Maps in Kagi and the full Web Extensions support are examples of large challenges, still left to be done.
At the same time, both products are reaching maturity. We can see that by the praise they are accumulating, and the organic growth of the number of people using Kagi and Orion as their daily drivers. Also the number of support emails we receive is only ~1 per day.
The feedback we are receiving in beta is fantastic. Thank you for that, that fuels our efforts, please keep it coming!
Financials
Providing the best search results in the world does come at a cost and it is real.
Our bare cost of serving search comes to ~$0.0125 USD per query for APIs and infrastructure, not including salaries and other operating costs. In other words it costs us around $12.50 USD to process 1,000 queries. We are currently serving around 2.1M queries a month, costing us around $26,250 USD/month.
Between Kagi and Orion, we are currently generating around $26,500 USD in monthly recurring revenue, which incidentally about exactly covers our current API and infrastructure costs.
That means that salaries and all other operating costs (order of magnitude of $100K USD/month) remain a challenge and are still paid out of the founders' pocket (Kagi remains completely bootstrapped).
Future plans
We are planning to reach sustainability at around 25,000 users mark, by further improving the product, introducing new offerings and pricing changes. With the product metrics being as good as they are, we should be able to reach this as our visibility increases.
We estimate the total potential market for Kagi at between 20M people (the number of people paying for YouTube Premium) and 200M people (the number of people actively using an ad-blocker) and with the right product, we hope to be able to reach at least a portion of them, especially as the public's erosion of trust in ad-supported search engines and web browsers continues.
While we expand on our product roadmaps, we are also planning to expand our offerings. First to come will be the Kagi Team plan, scheduled for release in September. This is made for startups, small teams in larger organization and companies who want to bring the power of Kagi search to their employees, increasing their productivity.
Team Plan
$19/month for unlimited users
+ $0.025 per search (team members searching, are team members being productive!)
Sharing settings between users (Lenses, blocklists…)
Access to Kagi results API
This is to be followed by the family plan, planned for October/November. The main idea behind the Family plan is to bring the power of Kagi into your home. Kagi for Families means relevant search results that matter, helping you and your children to stay safe on the web, while avoiding being tracked and influenced by advertising from the young age.
Family Plan
$5/month per user (minimum of 2 users)
Each user adds 250 monthly searches to your family account that can be used by all family members
Adult or Kids account types
Kagi for Kids - special search experience for young kids
Whitelisting sites for kids through Lenses
Parents will be able to share lenses with other parents
We are also considering a pricing change for our individual plan which is currently $10/month ($120/year). It is clear to us now that providing superior search quality at the current price will not lead to sustainability and that we will need to increase it.
Individual Plans
Kagi Unlimited - $19/mo or $180/year ($15/mo) or $288/biennial ($12/mo) - Original Kagi experience, with unlimited searches
Kagi Starter ($5/mo; 200 searches) - For casual users who make less than 200 searches per month
Free basic - 50 free searches that reset every month
The surveys we did previously indicate that raising the price to $19/mo would mean "thinning" the future user base by 70% (about 30% of people indicated they would be ready to pay that much or more). However this would allow us to at least have an operating margin.
Between the new price (which goes all the way down to only $12/mo if users pre-pay for two years), the new Starter plan and new offerings for Teams and Families, we think we will continue to see growth, that also has sustainability built into it.
If such change to Individual plans is to occur, we plan to grandfather-in all early adopters (meaning all current and future paid customers, up until this change) allowing them to keep their existing subscription price as long as they don't cancel it.
We have not made this pricing change yet. We are just discussing "plans" to. All existing customers will be grandfathered-in if/when this change happens in the future (November at the soonest).
Everything above are "plans" to the best of our ability to "plan", and are subject to change, communicated here to initiate a discussion within our community.
Team
The products we built would not be possible today without the efforts of a truly international team.
In the past few months we added Raghu Murthi, a fantastic leader and Vlad's (the founder's) former boss, and Norman Winarsky author and researcher, the former president of the Stanford Research Institute (SRI) Ventures, to our board of advisors.
From the west coast of the USA going east, Kagi is currently: Vlad (founder and CEO), Norman (board advisor), Raghu (board advisor), Dylan (Kagi Maps), Seth (Kagi full-stack), Zac (Kagi lead dev) all of them in the USA, Alexandre (Canada, Kagi Maps), Frances (Spain, Kagi R&D), Nenad (Kagi design) and Tamara (Kagi branding) both from Serbia, Michael (Russia, Orion iOS), Georgee (Georgia, Kagi front-end), Bogdan (Russia, Orion design), Dinesh (India, Orion lead dev), Ming (China, Kagi R&D), Boon (Malaysia, Kagi AI), Liam (Australia, Kagi DevOps) and Akira (Japan, Orion developer).
Would you like to be on that list?
- Do you have advanced Crystal or vanilla JavaScript knowledge? (Kagi search team)
- Do you have advanced Swift, Javascript and/or C++ knowledge? (Orion browser team)
Full-time or part-time (hourly rate) possible. Create the world's best search engine and the best browser with us. Flexible work conditions, remote work OK. Early startup equity available. Send your CV to vlad@kagi.com.
Mission: Humanizing the web
Kagi's mission is to humanize the web.
That means that our products can make the web a tool under the control of each human user's needs. Not the other way around. At the highest level, our browser and search engine will:
Have cutting edge technological solutions to enhance human capability
Serve users' needs, and no other needs, with speed, efficiency, and accuracy
Maintain the integrity and quality of the system
Allow no harm to come to the user through their system
Maintain privacy, and allow no tracking, ads, or biases
We will talk about this in more detail in the upcoming blog post (~mid of September).
Investing in Kagi
Kagi has been bootstrapped from day one and our philosophy was always one of focusing on the product and the vision, avoiding the VC investment route. There is simply too much to be done - bringing two of the most complex software products imaginable, with a completely novel business model to the market - to allow ourselves any overhead that VC investments typically bring.
It seems that our novel search engine and browser have been winning the hearts and minds of many and we've started getting "I want to invest in Kagi" emails from our users. This particularly is pleasing to see as so much of the product has been built thanks to our users.
We are therefore considering a "Friends, Family, and Users" investment round, where anyone passionate about Kagi and our vision for the web will have the opportunity to invest as little as $5,000 USD and join the ride with us. It would be structured as a SAFE note and we would use the funds to expand the team and accelerate our product vision.
If you are one such user interested in participating, stay tuned for future updates or drop us an email at vlad@kagi.com to state your interest.
Getting involved and staying in touch
Join our Kagi Discord or Orion Discord for day-to-day conversation.
Our support email is support@kagi.com. Our user feedback sites, kagifeedback.org and orionfeedback.org are very active and the right place to visit if you have any product feature suggestions or bug reports.
We do not blog often so it is safe to subscribe to this blog's RSS feed. We are preparing an interesting post about the motivation behind Kagi, with the working title being "The age of PageRank is over". Stay tuned!
Finally, Vlad's (Kagi founder's) email is vlad@kagi.com if you want to discuss something directly. You can also follow Vlad on twitter or read a recent interview about Kagi's origin story.
Final words
Last three months have been incredibly exciting for our users, our team and dare we say, for the future of the web. We watched the project grow and thousands of people around the world replacing their search engine and the web browser with Kagi's products. It feels like we are making a meaningful difference in the world.
We would like to thank all our users and everyone who helped spread the word about Kagi. Without you, we would not be able to make it this far. The idea of paid, user-centric web search is out there now and things will never be the same again.