Kagi Search - New Features
We'd like to give an update about the most important things happening at Kagi in the last three months.
As a reminder you can manage your subscription or upgrade to a premium Kagi account here.  
Improved search quality
We are continuing to improve the quality and accuracy of our results and overall quality of Kagi. We have closed over 500 user submitted suggestions and issues reported so far!
Kagi results are fast, accurate and better than on any other search engine on the market!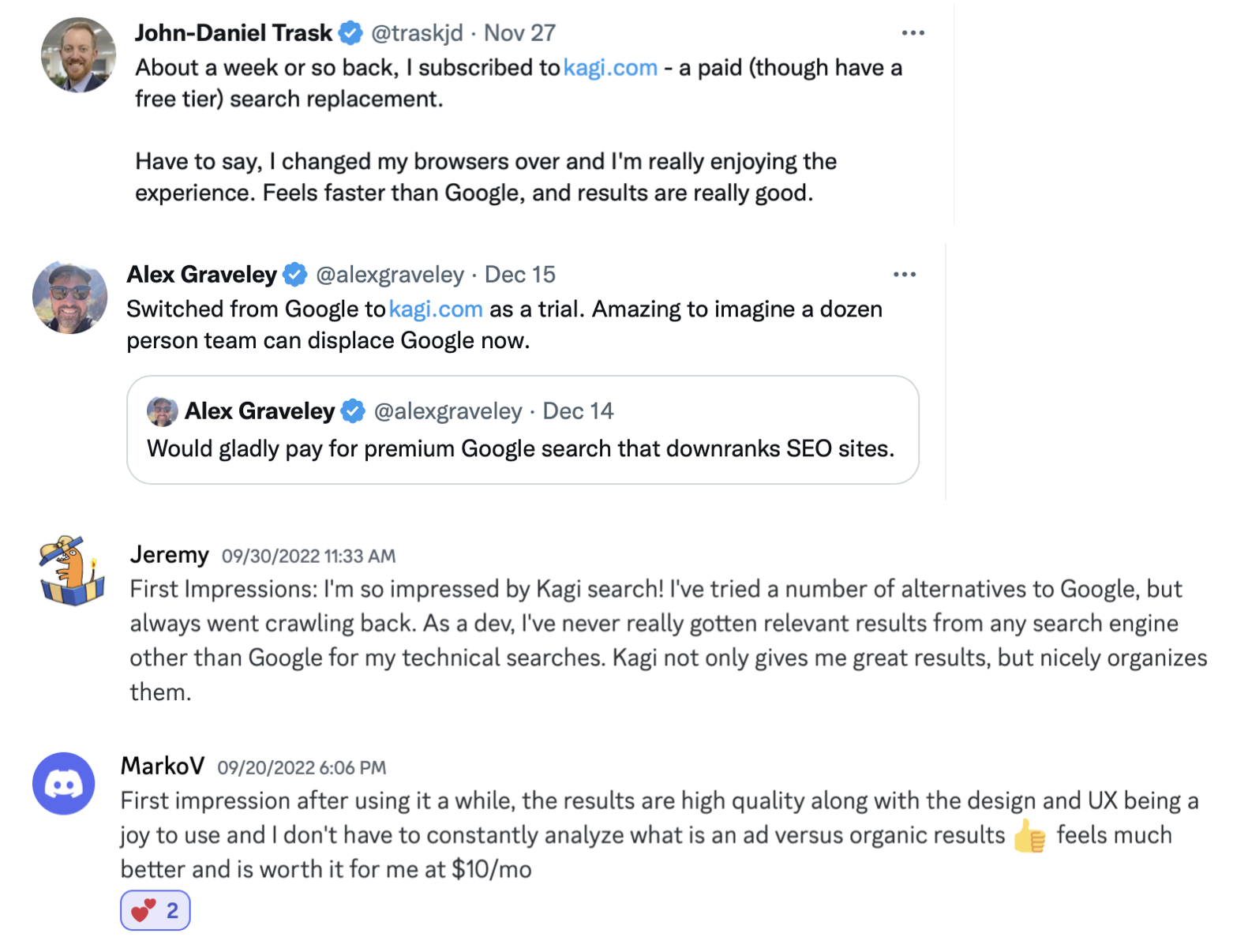 Shopping results
We have added shopping results (non-affiliate of course), with useful unbiased reviews and links to relevant sub-reddits.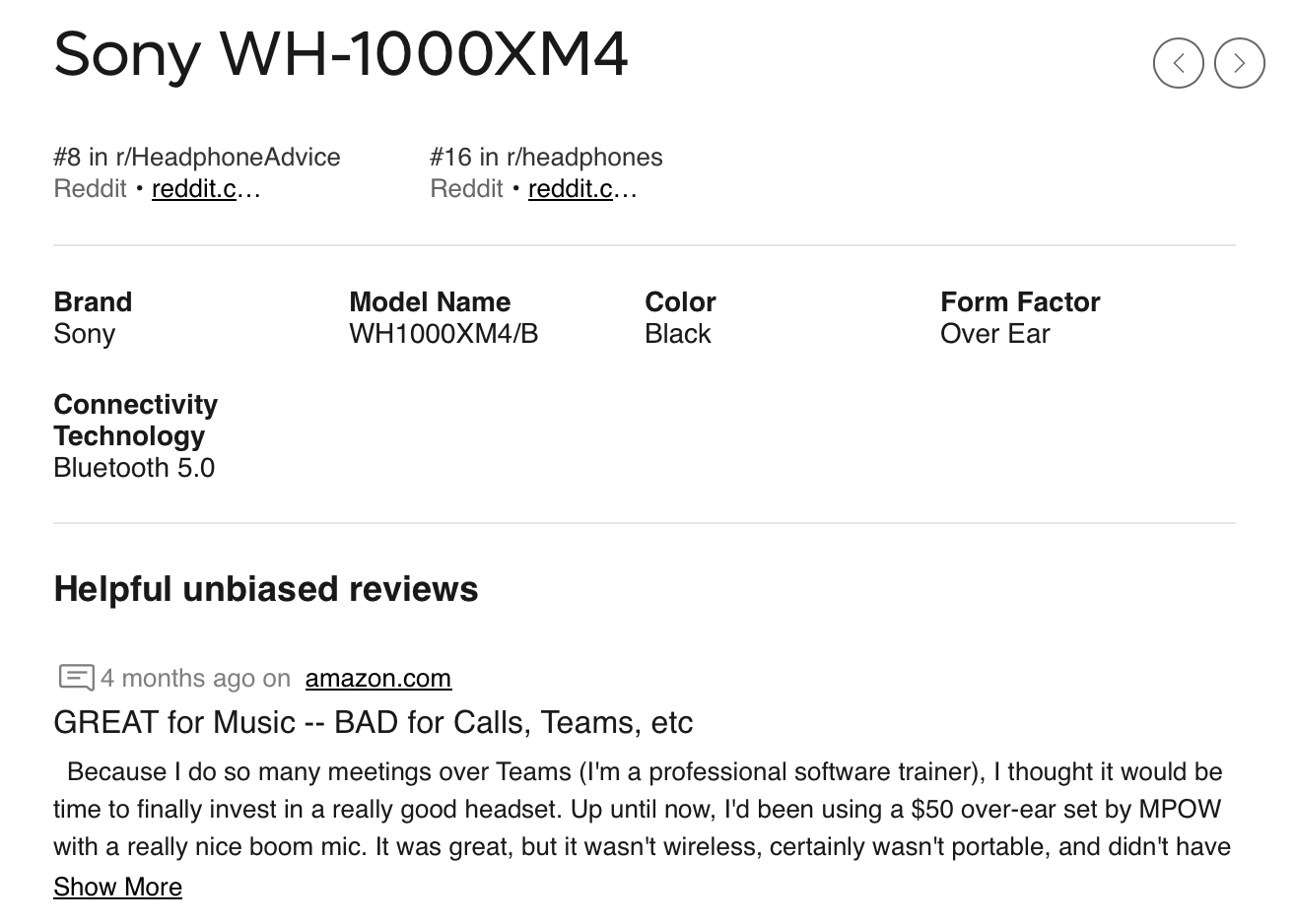 Code results
Find what you are looking for, even if it is hidden in the in the depths of Github.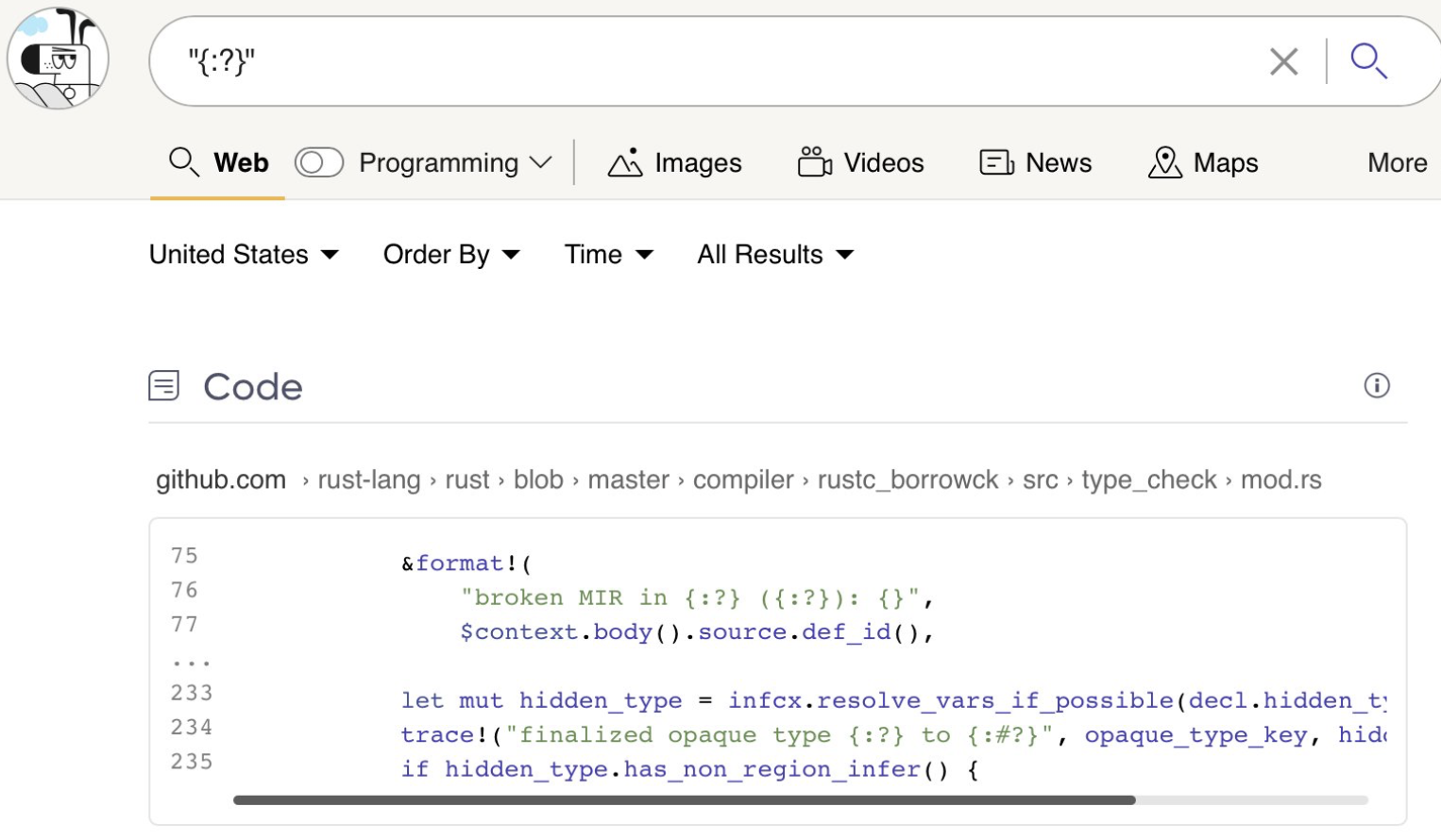 Team plan
Check out the Kagi Team plan, to bring the power of Kagi to your organization.
Multiple pages of results and sharing your searches
Kagi is now showing more results. And you can now share your searches online with people who do not have a Kagi account.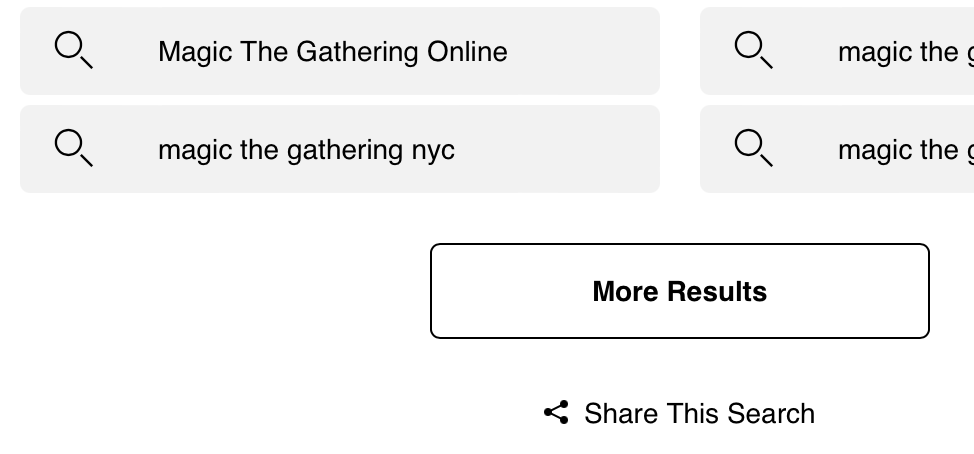 Localizations
Kagi is now available in French, German, Spanish, Danish, Canadian English, Romanian, Swedish and Korean thanks to our community of translators . 
Change your interface language here.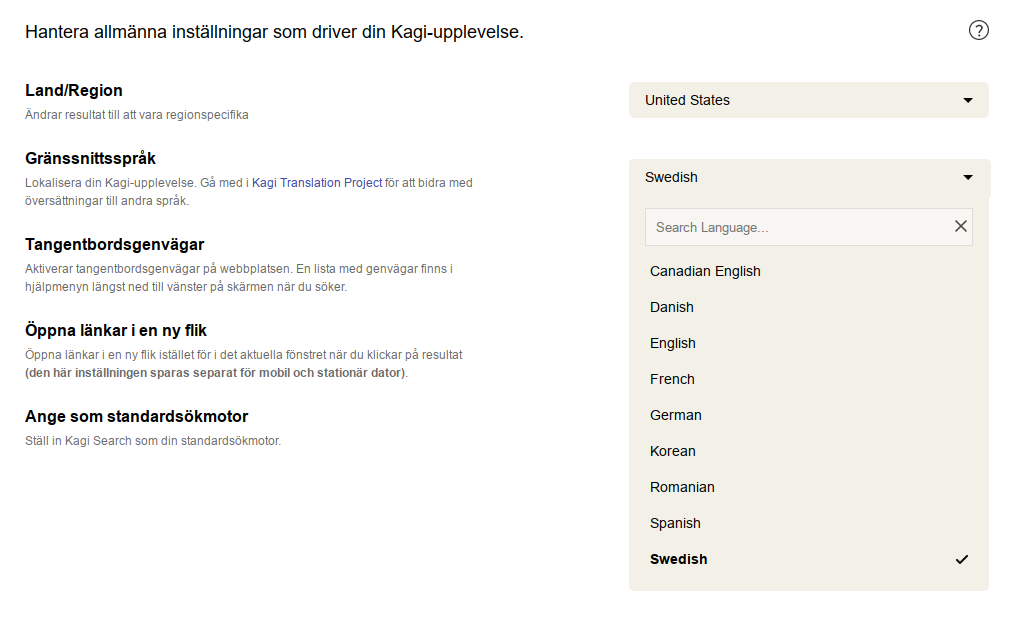 Gift Kagi to people you care about
We made it super easy to send someone the gift of Kagi, a perfect gift for the upcoming holiday season 🎅🏻
Simple select the gift amount and you will get an activiation link you can share with them.
Find it here .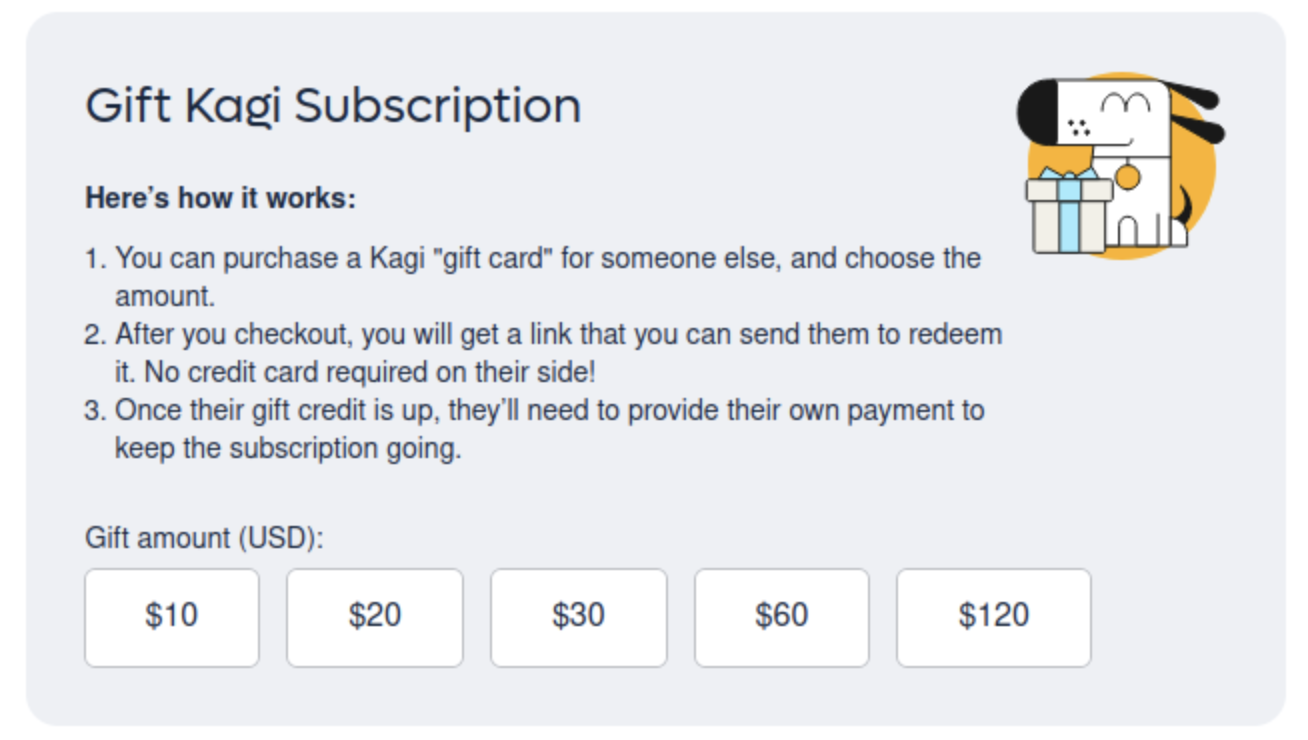 Dedicated documentation
Kagi documentation is a great source of information about the product, and also completely open-source!
Find it here: help.kagi.com  
Kagi search API
Build integrations and apps on top of Kagi search results.
Go to API documentation.  
Rewrite rules for results
If you do not like reddit.com and prefer to always see old.reddit.com in your results this is the solution for you.

Custom bangs
Create custom bangs that you can use to quickly access and search external websites.
Power of AI in Kagi
We are working on the integration of powerful AI capabilities into search. 
Check out this video for the demonstration of capabilities.  
Changelog RSS
You asked for it and we deliver. Subscribe to RSS feed of Kagi search release notes.
Check Orion browser
Orion browser by Kagi (based on WebKit, available on macOS/iOS) is a perfect companion to Kagi search and is developing at an incredible pace. It is also the fastest browser on Mac!
Exciting updates coming soon (January 2023)
We are working on a number of new features that should be launched very soon:
Multi-user accounts (Family plan)
AI tools for summarizing results and more
New pricing model (starting at ~$3-5/mo + cost of search)
Referrals  
Happy holidays, and see you next year!