Kagi search introduces Team plan
Today we are excited to announce the launch of the Kagi search Team plan.
The Kagi Team plan is made for startups, small teams in larger organizations, and companies who want to bring the power of Kagi Search to their organization.
Team plan summary
Kagi team plan pricing and features are as follows:
$19/month fixed fee for an unlimited number of users + $0.025 per search
Unified billing and team management dashboard
Ability to share settings between team members for increased productivity (Lenses, blocklists…)
Access to Kagi search results API to build your apps and integrations
Because the Kagi Team Plan is pay-per-use, you can add as many team members as possible and only pay for those actively searching. Team members that search are typically team members being productive, and Kagi will help them be even more effective with better results, no ads, and powerful search tools.
For orientation, the estimated cost per average user will typically be around $10/per month. You will have complete insight into cost in your billing dashboard, as explained in more detail below.
How to use the Kagi Team plan
To sign up for the team plan, simply select the team plan option at Kagi account creation. We will ask you for the company name, and you will be able to set up billing in the following step.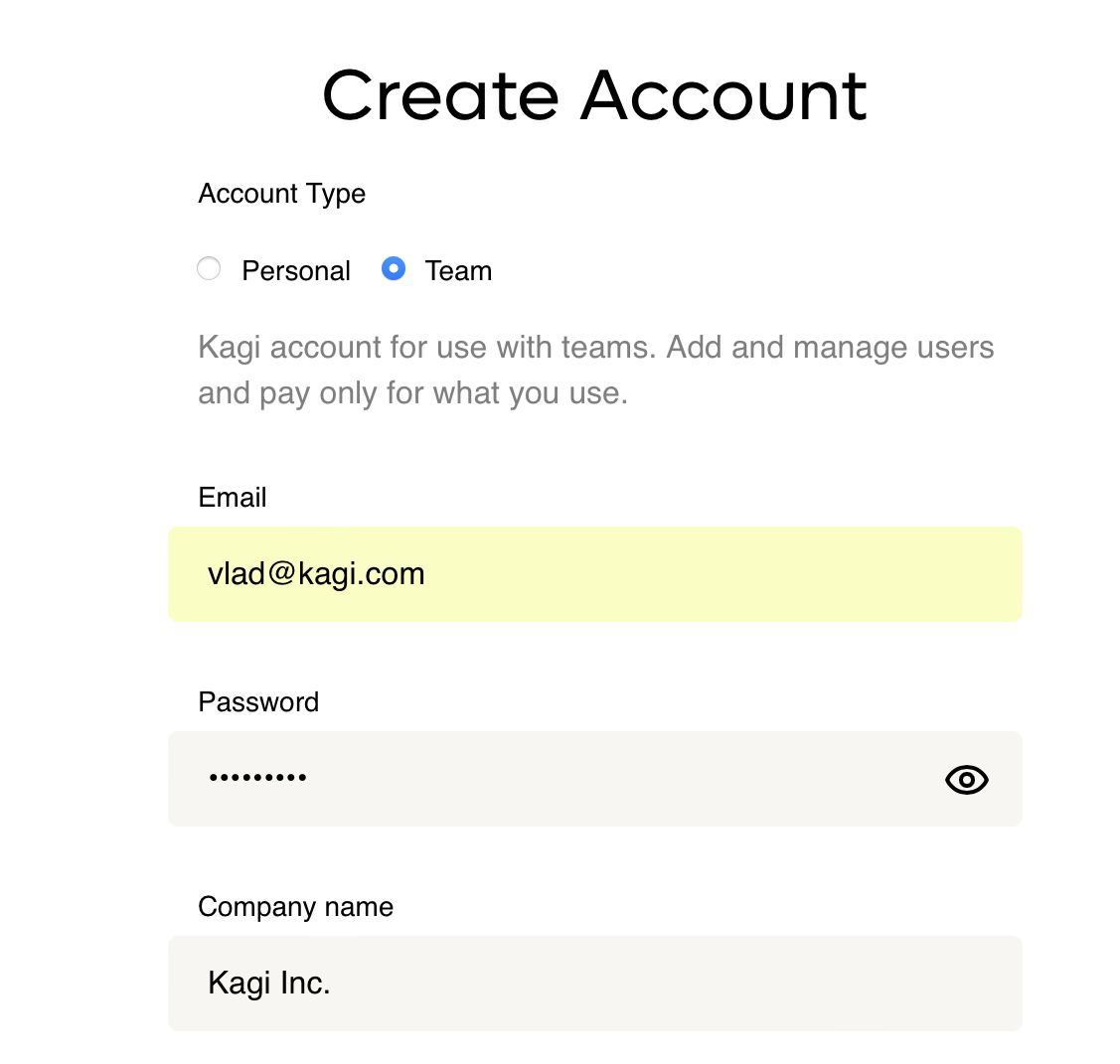 Select team plan at account creation
Inviting team members is easy. You can send them an email through Kagi or get an invite link that you can copy into an email or your internal messaging platform.
You can also limit the domains used to sign-up to your team to your company's domain or reset the invite link if necessary.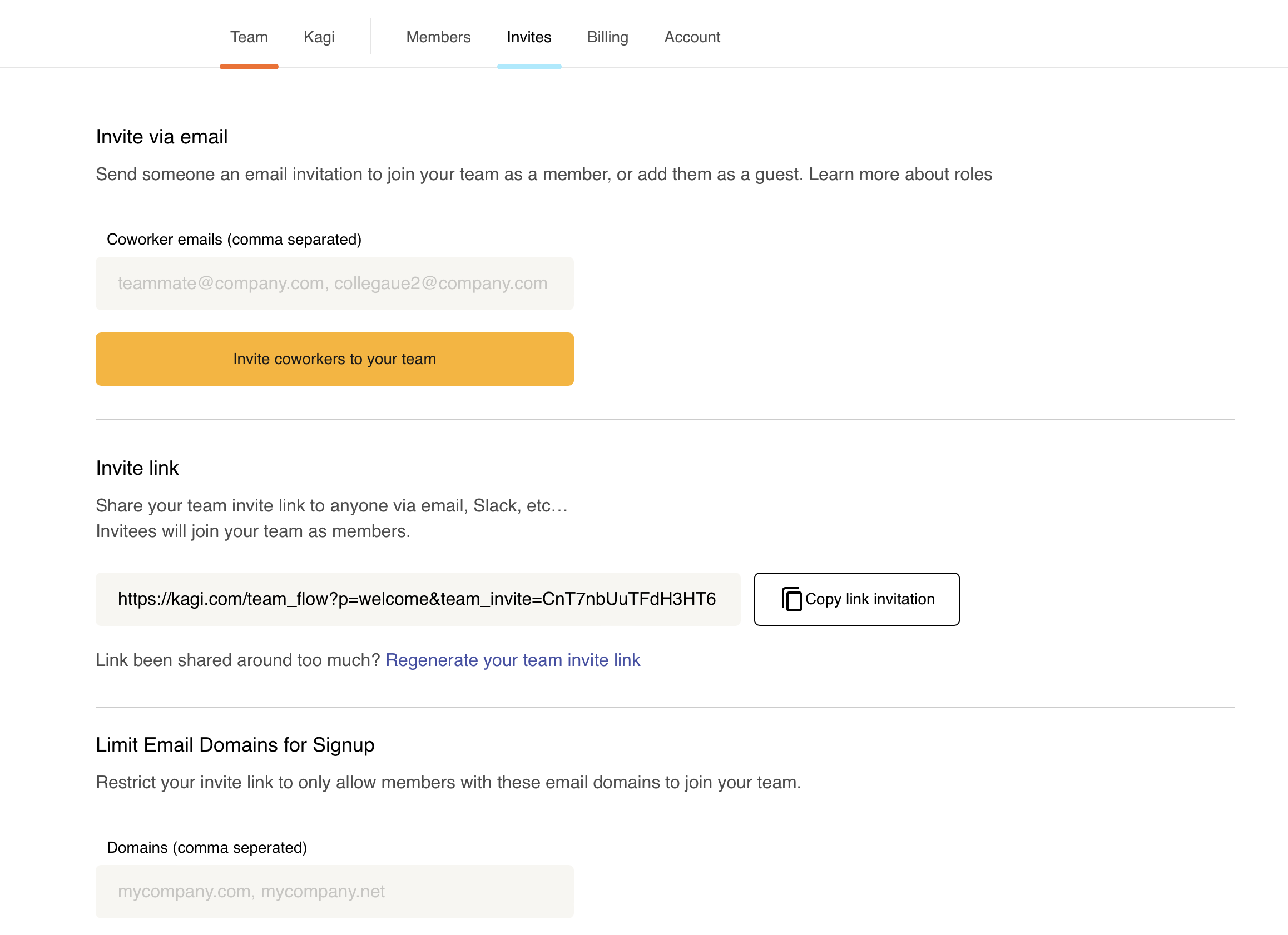 Invite members to the team
Members screen allows a quick overview of your team and the ability to manage roles or remove members.

Invite members to the team
The billing screen gives you the complete picture of usage, the amount due, and usage history. You can also download the invoice or export daily usage data (count of searches).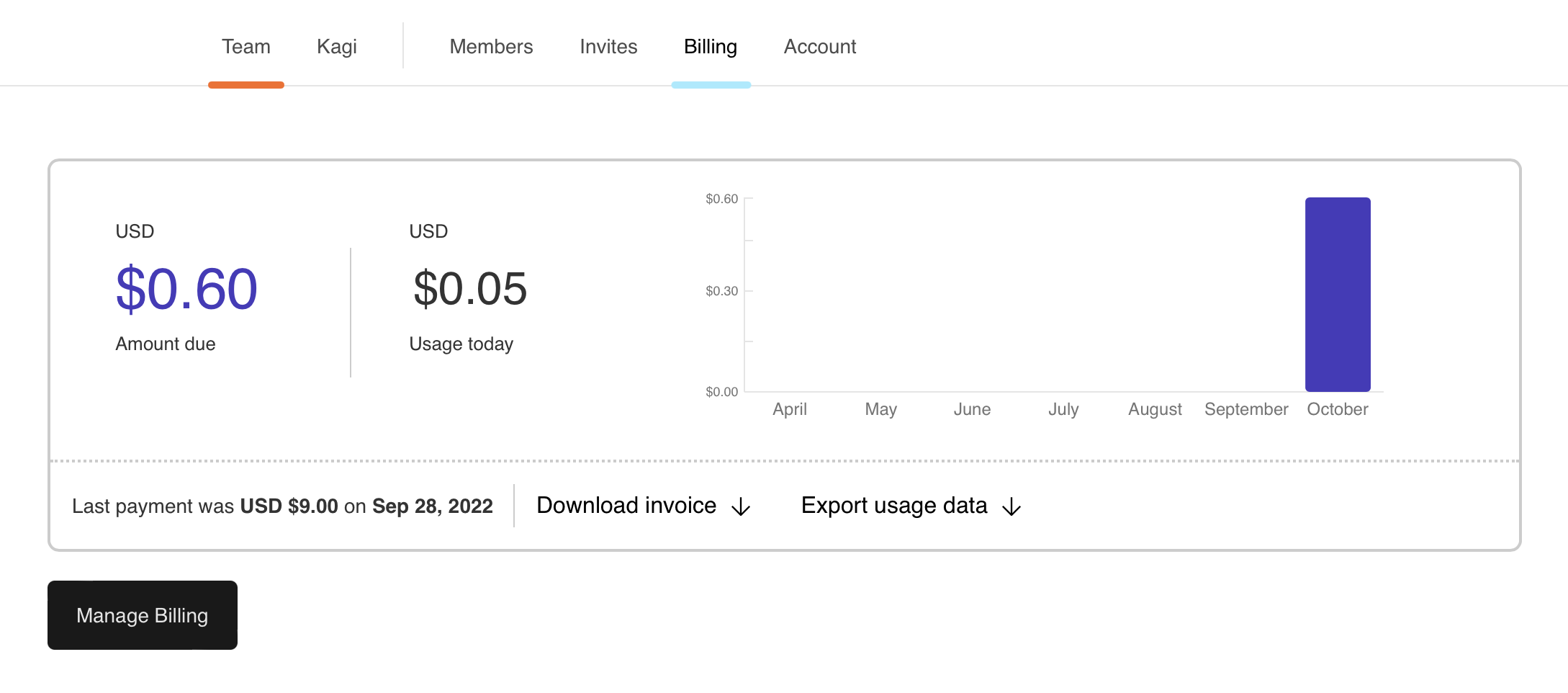 Billing dashboard
Unique features
The team plan administrator account has some unique features.
Default team settings
To begin with, every Kagi setting screen will have a "Set Team Default" button, which allows you to define the default setting for every new team account user, getting them up to set up quicker.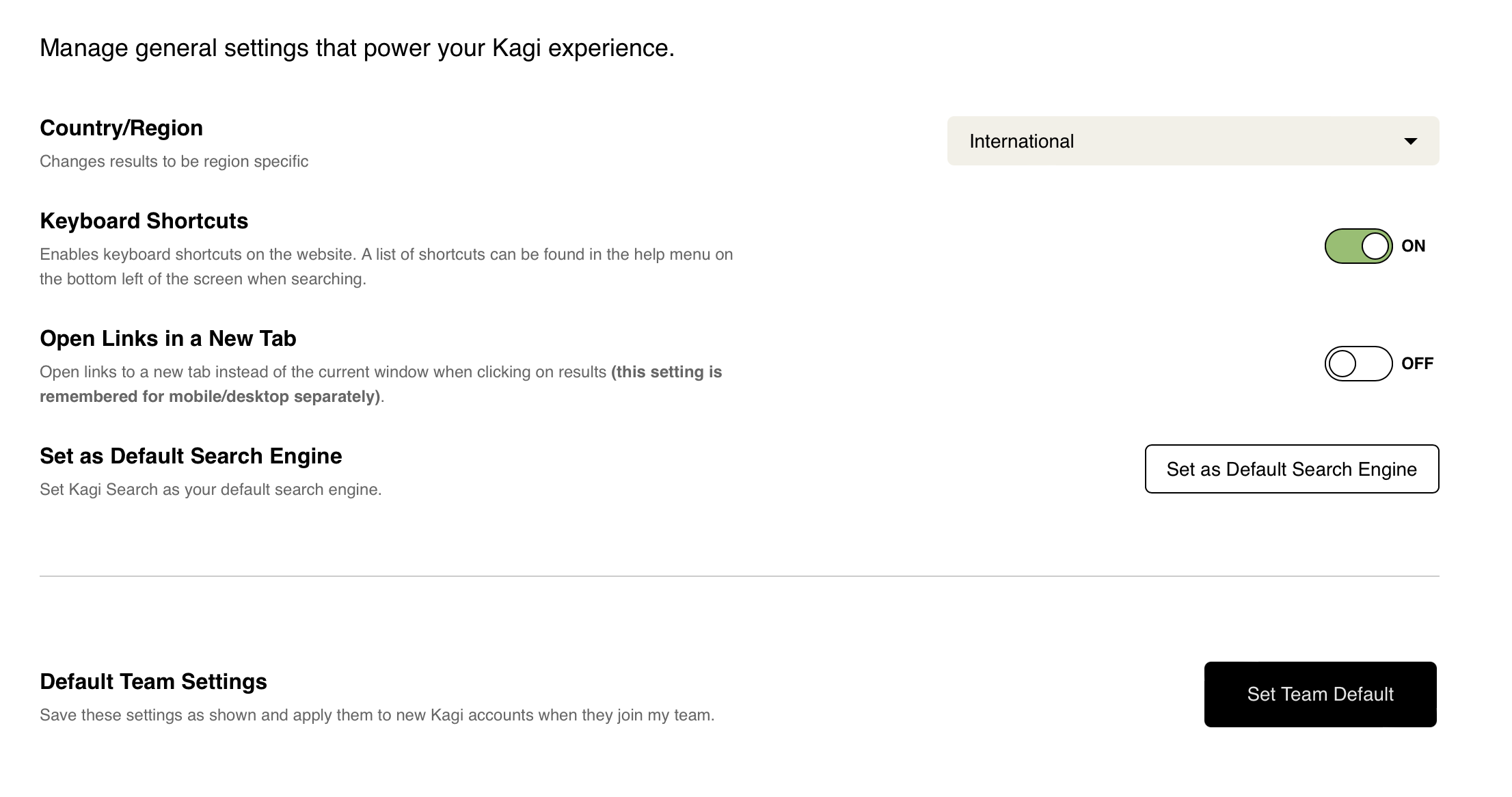 Make settings default for new team members
Shared domain ranking preferences
Other unique features are shared domain ranking preferences. For example, all domains the administrator adds to the "Raise" list will be up-ranked in the search results for the entire team. The same goes for the "Block", "Lower" and "Pin" domain lists. This is a great way to prefer domains commonly used by the team members in the results. Of course, it can also be left empty and let team members have individual settings.
Shared Lenses
We have also made sharing lenses between the team members easy. This way, Mike, the foodie in your team, can share their unique recipes Lens for all team members to use.

Shared Lenses
Kagi search API
Finally, the team plan allows access to Kagi Search API. We did not leave anything out; this is the same API that Kagi's front end uses to render the results. The API use is charged the same rate as everyday use ($0.025/search).
Read more in the API documentation.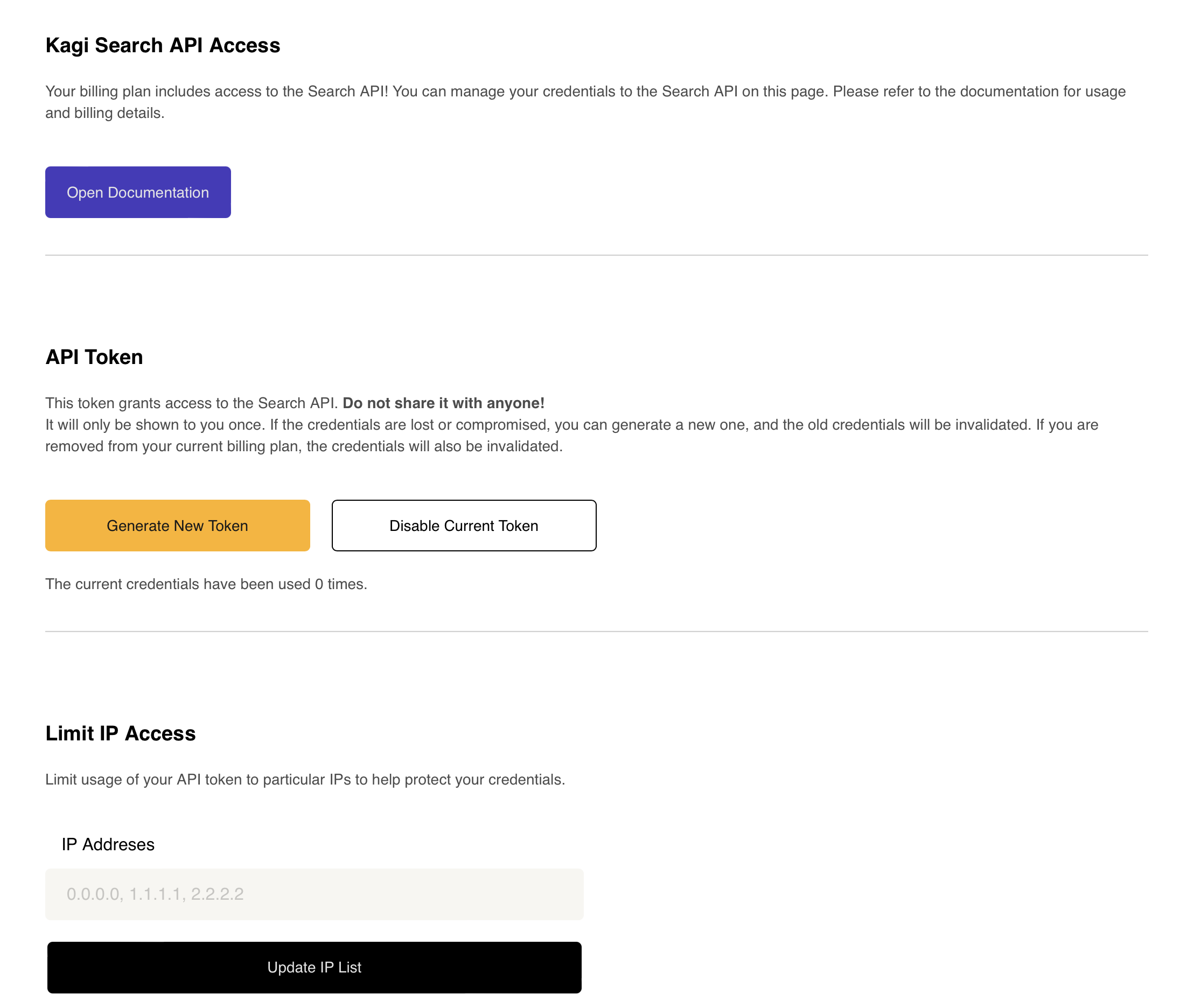 Kagi search API
Final words
We are excited to launch the Kagi team plan and enable teams to utilize the power of the Kagi search engine.
You can publicly share feedback using kagifeedback.org or by emailing support@kagi.com.